Introducing New Constellation Features and Hot Keys
by Kyna Garrett, on Oct 30, 2017 9:00:00 AM
We've made our constellations even better in Panoskin! A major part of creating a Google Street View tour is building out your constellations and connecting your scenes. We understand the importance of an efficient and smooth workflow and the new changes to constellations are designed to improve the building process.
We've made the constellation map even easier to use with a new quick menu, easier functions, scaling capability, island connections, new keyboard commands, and more.
New Quick Menu
This new menu can be found in the top right corner of your constellation map. It offers the ability to show labels for your scenes on the map, center your constellation to the business, lock or unlock all constellations, and select the whole or partial constellation.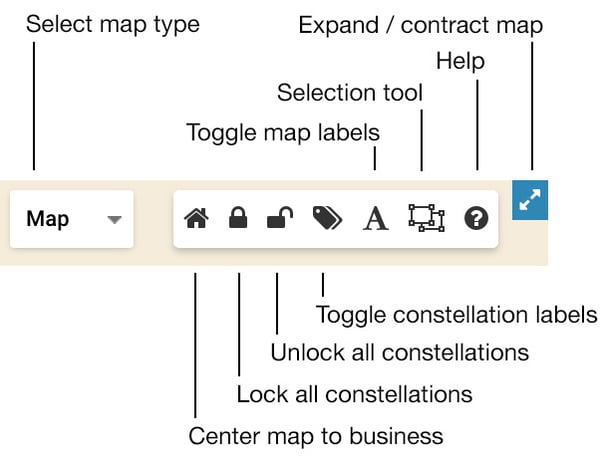 Updated Constellation Functions
There are some changes to the functionalities of your constellations as well. We recommend familiarizing yourself with these updates. Visit our full constellation guide in our Knowledge Base with an explanation of these updated functions.
Constellation Resizing
Panoskin now supports resizing your constellation. To best learn how this is done, check out our recent help article on this topic.
New Selection Tool
You'll now notice the ability to select a section of your constellation. For example, if you need to expand or contract only a portion of your constellation, you can do this by selecting that piece of your constellation and scaling it up or down without affecting the rest of the constellation.
Find out how to use the new selection tool here.
Connecting Islands/Levels
We're so pleased to introduce a way that allows you to connect your islands/levels. This has been a long-awaited feature. You can learn more about how to connect your islands (or levels) over on our Panoskin Knowledge Base.
Rearranging Your Islands and Images
There is a new capability that allows you to reorder your islands and images. This can be done in the "Upload photos" section. You can drag and drop your photos or islands simply by clicking and dragging into place.
Brand New Hot Keys
We've added hot keys to the Publisher for a smoother workflow. Hot keys are entirely optional to use, but they're designed to help speed along the process of building your tours.
Not only did we add these keyboard commands for convenience, but there are new features that come with using them, like flipping the scene 180 degrees, unlocking and locking all connections at once, and much more. Check out our full list of hot keys on the Panoskin Knowledge Base.
More new and exciting features are on the way! If you haven't already, join our Facebook Group or mailing list to be the first to hear about these new Panoskin updates.